EEE student projects
February 15, 2022
2023-05-25 8:23
EEE student projects
Electrical & Electronics Engineering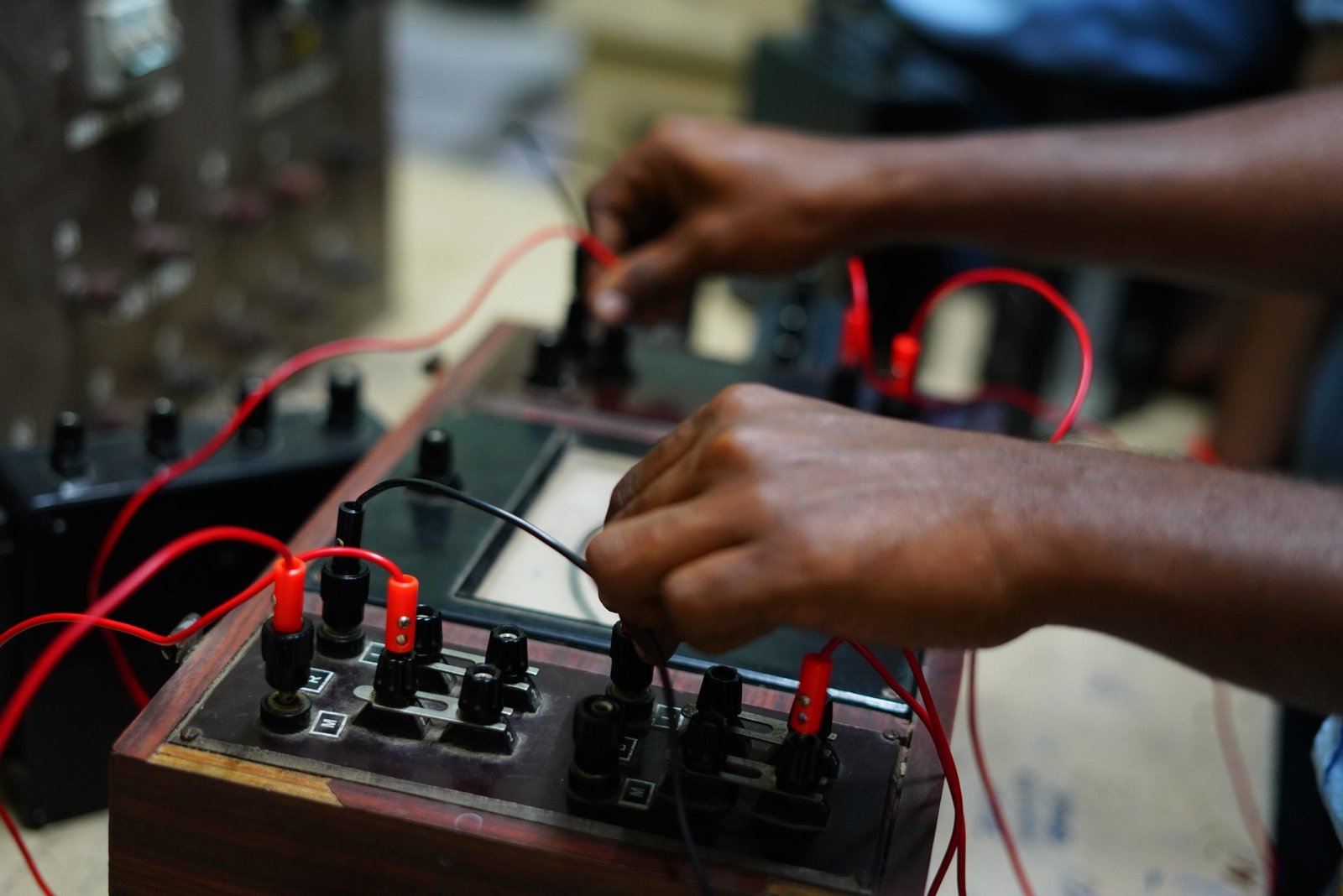 2022-2023
| | | |
| --- | --- | --- |
| S.No. | LIST OF PROJECTS | GUIDE ALLOTTED |
| 1.      | DESIGN,ESTIMATION AND REDUCTION OF HARMONICS IN A TYPICAL DISTRIBUTION SYSTEM USING E.TAP | Dr JVG Rama Rao |
| 2.      | WIRELESS BATTERY CHARGING SYSTEM FOR ELECTRIC VEHICLE USING PV ARRAY | Prof ANV Raja Gopal |
| 3.      | FOOT STEP POWER GENERATION USING PIEZO ELECTRIC SENSORS | Dr.B.Muthuvel |
| 4.      | BOOST CONVERTER IMPLEMENTATION FOR WIND GENERATION SYSTEM BASED ON A VARIABLE SPEED PMSG | S.Chandra Prakash |
| 5.      | A SINGLE PHAE TRANSFORMERLESS COMMON GROUND TYPE PV INVERTER | P.Siva Prasad |
| 6.      | MODIFIED PERTURB AND OBSERVE ALGORITHM BASED MAXIMUM POWER POINT TRACKING IN SOLAR PV SYSTEM | Ch.Ganga Bhavani |
| 7.      | SINGLE SOURCE HIGH GAIN SWITHED CAPACITOR MULTILEVEL INVERTER WITH INHERENT VOLTAGE BALANCING | I.Vamsiram |
| 8.      | ADAPTIVE PWM TECHNIQUE TO STABILIZE THE 3-PHASE INVERTER OUTPUT VOLTAGE TO IMPROVE THE POWER  QUALITY | K.Durga Devi |
1.FOOT STEP POWER GENERATION USING PIEZOELECTRIC SENSORS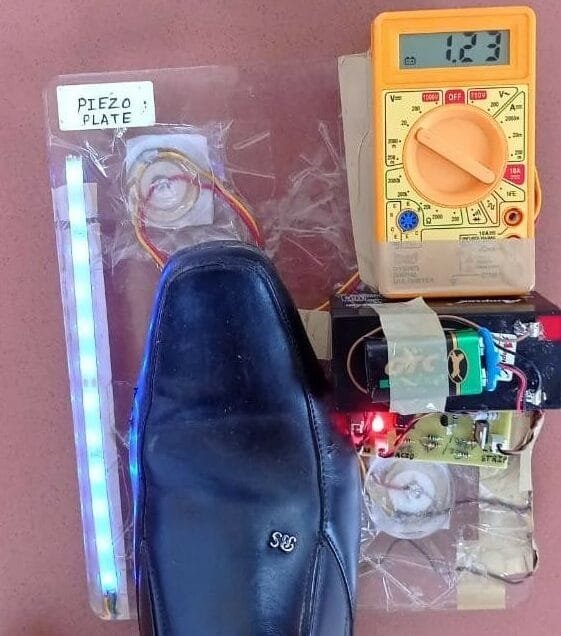 ABSTRACT
Human power transport has been in existence since time immemorial in the form of walking running & swimming. However, modern technology has led to machine to enhance the use of human power in more efficient manner. In this context, pedal power is an excellent source of energy and has been in use since the 19 century making use of most powerful muscles in the body. 95% of the exertion put into pedal power is converted into energy. Pedal power can be applied to wide range of job is a simple, cheap and convenient source of energy. However, human kinetic energy can be useful in a nos. of ways but it can also be used to generate electricity based on different approaches and many organizations are already implementing human power technologies to generate electricity to power small electronic appliances.
2. SINGLE SOURCE HIGH GAIN SWITCHED CAPACITOR MULTILEVEL INVERTER WITH INHERENT VOLTAGE BALANCING
ABSTRACT
Multilevel converters have emerged as a solution to connect high power applications to the grid, as it is problematic to connect only one power semiconductor switch directly to the grid due to the high voltage range. These converters use high-speed switching components to connect single devices among multiple DC levels, avoiding the problem of linking them directly to the grid. However, different multilevel topologies have been developed in the last few years, making them more complex to modulate than the two-level traditional converters due to the number of switching alternatives available. To address this complexity, this project proposes a new single-source high-gain switched capacitor multilevel inverter (SC MLI) that uses a reduced number of switches to synthesize 13- levels in the output. The proposed topology utilizes a cross-switched unit and a traditional H- bridge to create the required voltage steps by charging capacitors in parallel and discharging them in series. The high voltage gain and boosting ability make it suitable for applications in renewable energy systems, such as photovoltaic and wind energy conversion systems. The proposed topology also has potential in high-frequency power distribution systems, where it can improve the power quality and reduce electromagnetic interference. Overall, the proposed SC MLI topology offers a promising solution for high power applications and can significantly improve the performance of power conversion systems.
3. DESIGN, ESTIMATION AND REDUCTION OF HARMONICS IN A TYPICAL DISTRIBUTION SYSTEM USING ETAP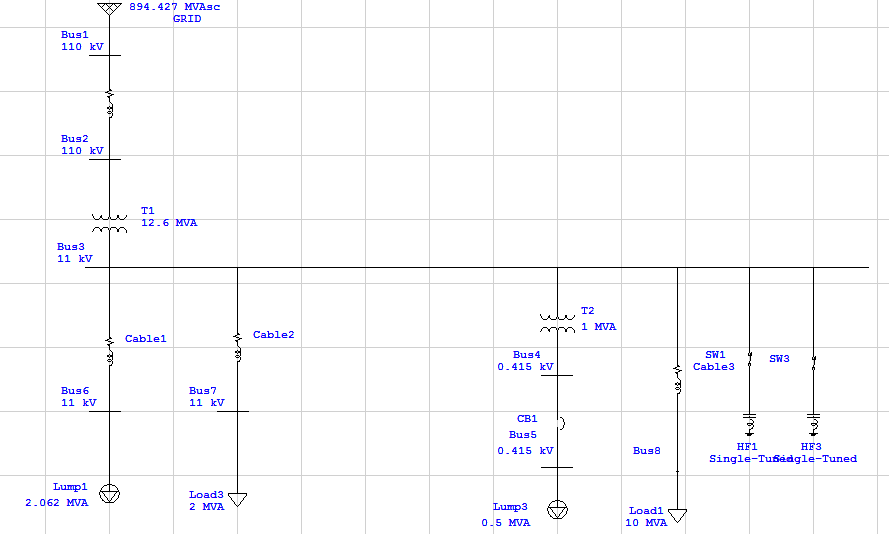 ABSTRACT
                      In this project the 110kV transmission system with 11kV distribution system has been designed. The system in supplying power to various loads at different voltage levels (11kV and 0.415kV). The different loads are modeled for simulation purpose, the rating are typically 2 MVA to 50 KVA respectively. The additional power of 3MW is injected to 11kV network. Firstly the harmonics and the total harmonics distortion is estimated for the network. Various harmonics presented at 11kVand 0.415kV are estimated. In order to reduce the magnitude of these harmonics, we can use single tuned filter, active power conditioners (or) distribution static compensator, but in this project a single tuned filter have been designed to elimination fifth and seventh harmonics the whole system is simulated, the reduction in the THD has been observed by 45%to 50%. Hence by designing suitable filter we can eliminate, reduce the harmonics content in the distribution system.
2021-2022
  S.No.

LIST OF PROJECTS

GUIDE ALLOTTED

1

PCB DESIGN AND IMPLEMENTATION OF DC MOTOR         BI-DIRECTIONAL CONTROL USING TV REMOTE

Dr.B.Muthuvel

2

FLY WHEEL POWER GENERATION

Surya Chandra Prakash Rao Sanaboyina

3

GRID INTERACTIVE SOLAR PV BASED WATER PUMPING USING BLDC MOTOR DRIVE

Chaladi Siva Ganga Bhavani

4

SPEED CONTROL OF INDUCTION MOTOR USING IR MODULE

Vamsi Ram Illa

5

AUTOMATIC EMBEDDED CAR PARKING SYSTEM USING ARDUINO

Galidevera Madhu Ganesh

6

IOT BASED WATER MANAGEMENT USING RASPBERRY PI

M Adi Lakshmi  Devi

7

AUTONOMOUS POWER MANAGEMENT FOR INTERLINKED AC-DC MICRO GRIDS

Ponnaganti Siva Prasad

8

PV SOLAR SYSTEM CONTROL AS STATCOM  (PV-STATCOM) FOR POWER OSCILLATION DAMPING

Ponnaganti Siva Prasad

9

DESIGN & FABRICATION OF SEMI AI BASED ELECTRIC VEHICLE

Prof. Ande N V J Raja Gopal

10

STUDY OF INRUSH CHARACTERISTICS OF LARGE THREE PHASE INDUCTION MOTORS USING ETAP

Dr JVG Rama Rao

11

IMPROVEMENT OF VOLTAGE PROFILE &REDUCTION OF LINE LOSSES IN RADIAL DISTRIBUTION SYSTEM BY THE OPTIMAL LOCATION OF CAPACITOR BANK

Dr JVG Rama Rao

12

IOT BASED WASTE MANAGEMENT FOR SMART CITYBY USING RASPBERRY PI

Kona  Durga Devi

13

REAL TIME VEHICLE MONITORING & TRACKING USING RASPBERRY PI

Vavilala Venkatesh

14

IMPLEMENTATION OF MODEL PREDICTIVE CONTROL  FOR CONVENTIONAL SWITCHED CAPACITOR MULTI LEVEL INVERTER TO REDUCE INPUT CURRENT PEAKS & CAPACITOR VOLTAGE RIPPLES

Vamsi Ram Illa

15

PFC CONVERTER BASED POWER QUALITY

IMPROVEMENT & RIPPLE CURRENT MINIMIZATION IN BLDC MOTOR DRIVE

Ch.Ganga Bhavani

16

OPTIMAL SIZING OF PV/WIND/BATTERY STAND-ALONE HYBRID RENEWABLE SYSTEM USING TLBO ALGORITHM

Surya Chandra Prakash Rao Sanaboyina

17

E-NOTICE BOARD

Prof. ANV Raja Gopal
1. DESIGN AND FABRICATION OF AI BASED ELECTRICAL VEHICLE
ABSTRACT
Semi-Autonomous vehicles are developed by various companies like Tesla, Audi, and Google etc. The idea of autonomous cars is originated by the arising of accident due to careless people driving and, in this way, harmful accident extremely occurs. The purpose of our project is to add-on a safety feature on vehicles that is lane detection so that vehicle may not distract from the road when driver is not in his senses. This can make car driving robust and easy for anyone and a lot safer than before. For this purpose, we have gone through many articles and read papers on it. Many companies and Developers are interestingly participating their part in this field. What we did is that we have used Raspberry Pi & Python Programming Languages. Initially we designed and fabricated an Electrical Vehicle with the capacity of 4-seater. In this vehicle we used 3KW & 60 V BLDC Motor with differential. We used the Led Acid battery of the capacity 60V & 100 Amp. Once Fabrication & Testing Completed, we focused on Semi-Autonomous Features. In this Features mainly we focused on Self Driving, Obstacle Detection, Speed Sensors, battery Discharge Time etc… The system would have sensors to detect the obstacles and to be able to react according to their position. For implementing these features, we used Advanced Python Coding. With this Vehicle so many advantages are there, mainly control the traffic issues, no need of expert drivers, save more time and money. Already, some of the top automobile companies launched their new vehicles into the market like Tesla, Pony.ai, Waymo, Apple, Kia-Hyundai etc. Here we just prepare a Electric vehicle and some minimum level of AI features to the vehicle. Still, there is a lot of scope to implement more AI features in to the vehicle.
2. RASPBERRY PI BASED E-NOTICE BOARD
ABSTRACT
This project presents the project College Information Management System (CIMS) deals with the maintenance of information over a network within the college. The college system has gone through a vast transformation particularly in the last decade. While adopting, IT seems to be the best choice towards enhancing efficiency, it becomes necessary for college systems to face the challenges imposed by the e-vulnerabilities. This product ensures instant and secure information maintenance in colleges. In this system raspberry pi is used which is interconnected to the all college notice boards which will have a admin who will enter the notice which should appear in the college premises. Apart from this College Information Management System project allows the information available over the college internal network and provides information access to the entire spectrum of campus users that includes college staff such as administrators, faculty, librarians, etc. Whatever message the admin want to give the person will give it through the network in the raspberry pi which will automatically display the notice on the particular E-notice board.
3. PCB DESIGN AND IMPLEMENTATION OF DC MOTOR BIDIRECTIONAL CONTROL USING TV REMOTE
ABSTRACT
This project describes how a DC motor can be moved in forward or reverse direction using a TV or DVD remote control. The goal of this project is to design, construct and implement a bidirectional motor driver that uses infrared sensor (IR) 38kHz pulse train for the purpose without using any microcontroller or any programming. In any industry direction control of an electric device system is very critical and crucial. Every designer aims at achieving a control methodology having high degree of precision. This idea is proposed to drive the dc motor for the required application in both forward and backward direction by using wireless technology.
2020-2021
  S.No.

LIST OF PROJECTS

GUIDE ALLOTTED

1.     

DESIGN AND FABRICATION OF 4WS ELECTRICAL VEHICLE

SHANMUKHA SRIRAM SALADI

2.     

DESIGN OF AN ENERGY EFFICIENT IOT ENABLED SMART SYSTEM BASED ON DALI NETWORK OVER MQTT PROTOCOL

Surya Chandra Prakash Rao Sanaboyina

3.     

A NOVEL SINGLE-STAGE SINGLE-PHASE RECONFIGURABLE INVERTER TOPOLOGY FOR A SOLAR POWERED HYBRID AC/DC HOME

ANDE  N V J RAJA GOPAL

4.     

AN IOT PLATFORM INTEGRATED INTO AN ENERGY EFFICIENT DC LIGHTING GRID

PANJA BHOGIRAJU

5.     

OBSTACLE AVOIDANCE IN A SOLAR POWERED AUTONOMOUS VEHICLE

Dr. B MUTHUVEL

6.     

DESIGN AND IMPLEMENTATION OF REMOTELY

LOCATED ENERGY METER MONITORING WITH LOAD

CONTROL ANDMOBILE BILLING SYSTEM THROUGH GSM

V  VENKATESH

7.     

OPTIMAL ECONOMIC LOAD

DISPATCH WITHOUT NETWORK LOSSES USING ANT LION

OPTIMIZATION

VAMSI RAM ILLA

8.     

SOLAR PV BATTERY STORAGE INTEGRATION USING A NEW CONFIGURATION OF A THREE LEVEL NPC INVERTER WITH ADVANCED CONTROL STRATEGY

CHALADI S GANGA BHAVANI

9.     

PV-HESS FED BLDC DRIVEN WATER PUMPING SYSTEM WITH PSO-BASED MPP TRACKING EMPLOYING ZETA CONVERTER

PONNAGANTI SIVA PRASAD

10.  

AN IOT BASED REAL TIME COMMUNICATION ANDLOCATION TRCKING SYSTEM FOR VEHICLE EMERGENCY

B DIVYA PRAKASH

11.  

DESIGN OF BUS TRACKING AND FUEL MONITORING SYSTEM

M P V NARAYANA

12.  

POWER QUALITY IMPROVEMENT AND MITIGATION BY USING DISTRIBUTED POWERFLOW CONTROLLER

PONNAGANTI SIVA PRASAD

13.  

SMART AMBRELLA

VAMSI RAM ILLA

14.  

KNOWLEDGE BASED REAL TIME MONITORING SYSTEM FOR AQUACULTURE USING IOT.

GALIDEVARA MADHU GANESH

15.  

DEVELOPMENT OF A BIDIRECTIONAL DC/DC CONVERTER WITH DUAL-BATTERY ENERGY STORAGE FOR HYBRID ELECTRIC VEHICLE SYSTEM

K DURGA DEVI

16.  

SINGLE-PHASE TO THREE-PHASE UPQC APPLIED IN SINGLE WIRE EARTH RETURN ELECTRIC POWER DISTRIBUTION GRIDS

DVM SATISH KUMAR

17.  

AN AUTOMATIC DRIVER DROWSINESSALERT SYSTEM BY USING GSM

SHANMUKHA SRIRAM SALADI

18.  

ANTI-THEFT PROTECTION OF VEHICLE BY GSM & GPS WITH FINGERPRINT VERIFICATION

CHALADI S GANGA BHAVANI

19.  

TIME DELAY SLIDING MODE CONTROL OF NONHOLONOMIC WHEELED

MOBILE ROBOT

MUTYALA ADILAKSHMI DEVI

20.  

A NOVEL STRUCTURE OF CASCADED MULTILEVEL INVERTER WITH HIGH VOLTAGE LEVEL GENERATION CAPABILITY USING REDUCED COMPONENTS

PANJA BHOGIRAJU

21.  

ROOM ACCESS DEPENDINIG ON NO OF PEOPLES INSIDE THE CABIN

ANDE  N V J RAJA GOPAL

22.  

CONTROL SCHEME FOR AN IPM SYNCHRONOUS GENERATOR-BASED GEAR LESS VARIABLE SPEED WIND TURBINE

SANABOINA S CH PRAKASH